The Daguerre Memorial: Commemorating the Origins of Photography
We know you will want to soak up every second of everything Imaging USA has to offer, but you might want to consider arriving in the area early or staying a day or two after the conference to explore Washington D.C., a city brimming with museums and beautiful scenery that can inspire your photography. And our nation's capital is also home to a very special monument, one that all of us here at PPA hold near and dear to our hearts.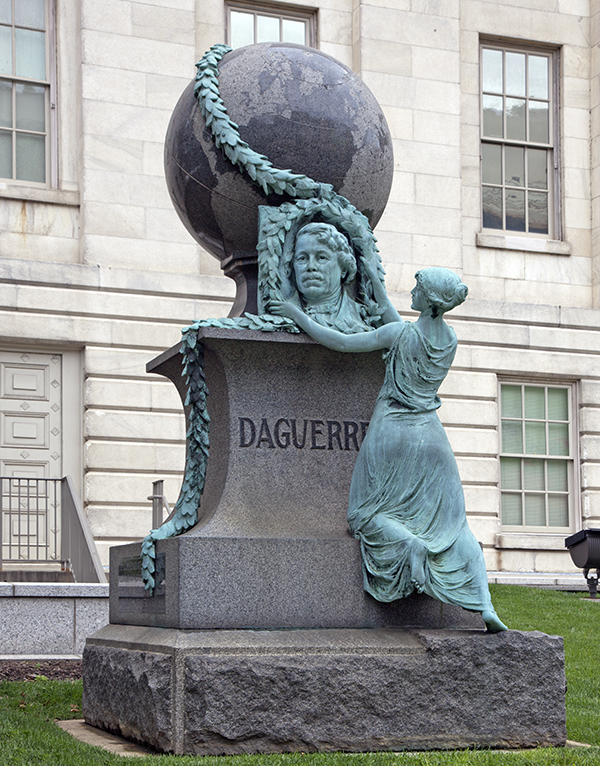 In 1890, Professional Photographers of America donated a monument of the French artist Louis Mande Daguerre to the American people. The bronze figure, sculpted by Jonathan Scott Hartley, was placed in the Smithsonian Institute's National Museum Building (now known as the Arts and Industries Building) to celebrate the first 50 years of photography. Hartley's design features a likeness of Daguerre based on an original 1848 daguerreotype by the American photographer Charles R. Meade of the Meade Brothers Studio. From 1897 to 1969, the monument was displayed on the National Mall. It was relocated again in 1969 to the grounds of the National Portrait Gallery, where it remains today.

The Art Inventories Catalog of the Smithsonian describes the monument: "Small relief bust of Louis Daguerre rest in front of a large globe on top of a curved pedestal bae. A female figure representing Fame kneels on the base in front of the bust and frames his face with a laurel garland. Another garland encircles a globe to exemplify the universality of photography."

Daguerre (1787-1851) invented the daguerreotype, the earliest type of photography, and introduced it worldwide in 1839. The technique—which involved fixing an image on a light-sensitive, polished silver plate—was the first photographic process to be used widely in Europe and the United States.

Check out this video to learn more about the monument and the efforts taken to conserve this sculpture.

Location
As you plan your Imaging USA experience, block off a little time before or after the show to visit this larger-than-life sculpture that commemorates the origins of our craft and industry. The Daguerre Memorial is located at 7th Street, between F and G Street, NW, on the east-side of the Smithsonian American Art Museum and the National Portrait Gallery. The marker is at or near this postal address: 600 7th Street Northwest, Washington DC, 20004.

If you haven't registered for your All-Access Pass to Imaging USA, there's still time! Early bird pricing ends December 1.

Photo credit: Library of Congress, Prints and Photographs Division, Carol M. Highsmith.