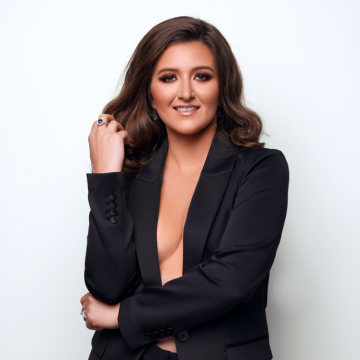 Sponsored By: The Boudoir Album
Kelli Marie Connor owns and operates a renowned boudoir photography studio in New Hampshire. Kelli began empowering women through the art of boudoir photography in 2010 after graduating from the University of New Hampshire with a Bachelor's degree in Photography. Kelli's studio reached over $248,000 in sales the first full-year in business and has subsequently increased with each passing year. Currently, with a team of associate photographers, Kelli's studio is grossing over $800,000 in revenue annually.
Not only is Kelli still photographing clients alongside the associate photographers in her studio, she is also educating thousands of other photographers around the world by helping them reach similar revenue goals through her revolutionary processes and systems. Kelli strives to offer a luxury photography experience to her clients and has set out to develop educational resources to guide other photographers to creating the same experiences for their studios. The educational resources, guides, and courses cover topics ranging from system workflows, in-person and product sales; growing a team; and so much more.
All of these resources offer other photographers the opportunity to learn from Kelli and emulate her systems, in turn, elevating their own studios and businesses to new levels.