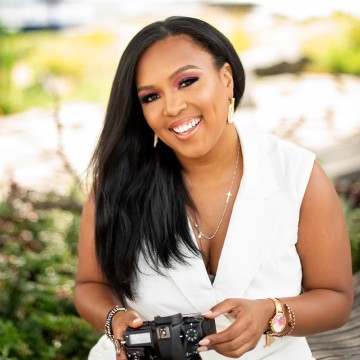 Sponsored By: Miller's Professional Imaging
Rhea Whitney is an international speaker and wedding photographer for the chic, modern couple and creative + educator for rising pro photographers who want to run a profitable photography business. In less than 10 years, Rhea has consistently driven her business to six figures by putting client service first, establishing a constant brand presence, collaborating with top vendors and sponsors + implementing strategic marketing that works!
Recently, Rhea was named one of the world's top wedding photographers of 2020 by BRIDES magazine; and has also been featured in many other national publications. Though Rhea has become one of the most sought photographers and speakers in her industry, she is most passionate about collaborating with local sponsors and vendors for events, styled shoots, and content creation. To date, Rhea has spoken and shot all over the world, helped over 100+ creatives build a revenue-generating business through 1:1 coaching + her digital education platform PhotoBomb Academy™; and has been featured on over five of the top business and photography podcasts in the nation.
Rhea grew up with a camera in hand, and in her free time loves to work out, hang with her girlfriends, relax by the water, or do a little shopping at Nordstrom. She is a proud graduate of Howard University, where she majored in Business Finance & Accounting. She attributes her success to her genuine passion for client service, business, and finance acumen + innate love for photography and art which allowed her to deeply understand the numerical world of camera settings and the beauty it creates.