Volunteer
Volunteer at Imaging USA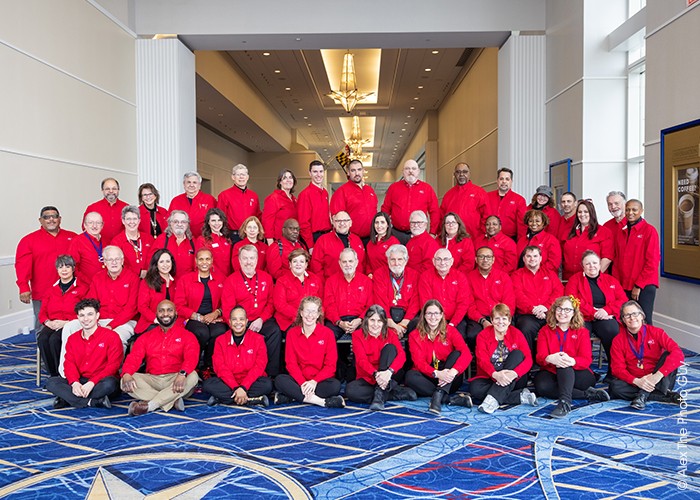 It is practically impossible to pull off the Imaging USA magic without a strong team of enthusiastic and dedicated members who volunteer every year. If you are a member who would love to help other photographers get the most out of their Imaging USA experience, you can volunteer too!
You can choose to volunteer for any of the following periods:
January 28-30, 2024 (Imaging USA Conference and Expo)
January 27-30, 2024 (Imaging USA Conference& Expo, plus our busy Saturday pre-conference day)
January 25-30, 2024 (Imaging USA Conference & Expo, plus three days of pre-convention classes)
Volunteer positions for the 2024 conference are filled.
We will reopen the application for Grapevine 2025 volunteers in February.


What Every Volunteer Needs to Know
Please review the volunteer responsibilities and details below before you apply.
Check ImagingUSA.com for the latest details on sessions, speaker, travel, and more. Further information will be emailed when available.
Email will be our PRIMARY form of communication with volunteers. Please add PPAVolunteers@gmail.com to your email contact list and make sure this address is not blocked by your email spam filter. Applicants and volunteers are asked to respond to ALL communication as soon as possible, even if it is "Received." It is imperative that we hear back from you in order to adhere to deadlines for our committee and operations. Your prompt response helps us to meet our deadlines.
Assist with six convention programs, events or greeting slots for Imaging USA, averaging two per day, Sunday through Tuesday.
Assist with pre-convention programming or greeting for early volunteers.
Attend the daily briefing each day to stay up to date on any changes in programming. The daily briefing is held on Sunday, Monday, and Tuesday at 12:15 pm and includes a luncheon each day.
HAVE FRIENDLY, GREAT CUSTOMER SERVICE SKILLS WITH A SMILING FACE AT ALL TIMES.
Support convention committee and event staff.
Support instructors with a set-up like props/display instructors' prints.
Check the badges of attendees at classroom doors.
Pass out session materials as requested by the instructor.
Greet convention attendees at the airport and dedicated convention hotels.
Long-sleeved volunteer oxford shirt. Two will be provided to each volunteer and they must be returned on the last day of Imaging USA. If you choose to layer, black may be worn under your shirt.
Black slacks, NO jeans or shorts.
Close-toed, comfortable shoes. It's suggested that you bring at least two pairs of comfortable walking shoes
Aside from having the opportunity to see the finest Instructors in the world in action and building friendships with the other photographers on the Convention Committee team, you will receive:
Complimentary convention registration for Imaging USA
Volunteers must be PPA members and can earn up to 5 PPA service merits for the week

You'll earn two PPA service merits for volunteering at Imaging USA (Sunday-Tuesday).
You'll also earn one PPA service merit per day (maximum of 2 per convention) for volunteering during the pre-convention classes (Thursday-Saturday).
If you have questions or need additional information, please contact Shelly Bush:
Shelly Bush
Imaging USA Convention Committee
Member Volunteer Coordinator
PPAVolunteers@gmail.com
248-231-6192
Student Volunteers: Start Here